Just in time for football's playoffs!  Here's a wing recipe that anyone can do in your Charcoal or Pellet Smoker!
How long does it take to smoke wings
Wings should be done and perfectly smoked in just 2 hours. You want to keep the smoke going for at least one hour and keep on indirect heat for the whole time. Once done chicken should have a minimal internal temperature at 160°F degrees. I like to take them a bit higher to 180°F.
The best wood for smoking chicken is Cherry Wood in my opinion. I just love how wings taste after. Wood chips/chunks flavor is totally a personal preference, and you can use any species you like or just have on hand. Chicken wings will still taste amazing, i promise.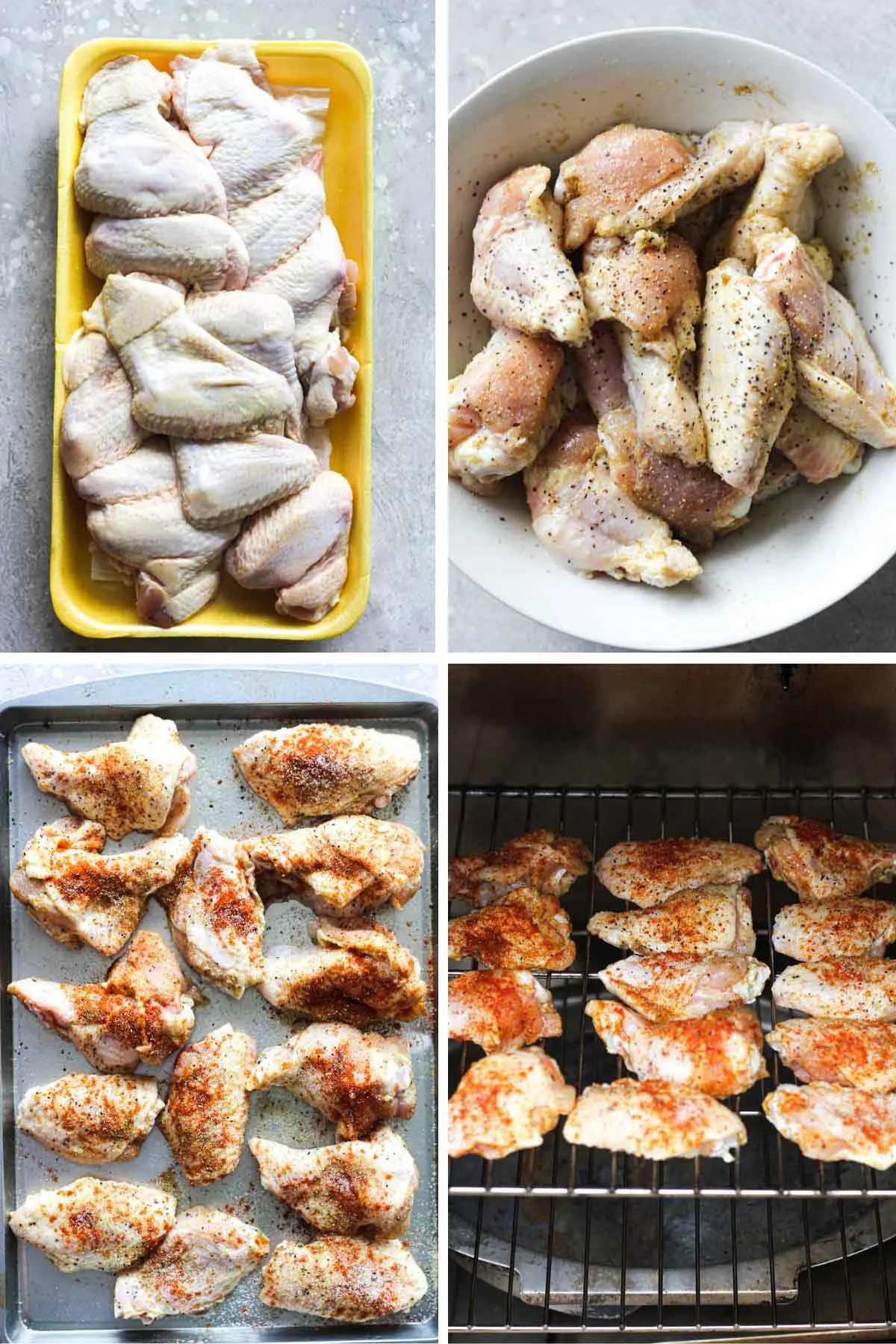 How to make the skin crispy
I am all about crispy wings.  There are so many tips and tricks out there.  Like bacon soda to air drying in the fridge for 24 hours.  That's too much fuss for me!  The trick for me is to start with a hot and fast approach.  I will start my smoker or grill and set it to 325-350°F.  This will help to get the skin nice and crispy without drying it out!   If you like the low and slow approach, the start off with a temp of 225°F and when finished, throw them under the broiler for a few minutes to crisp up the skin. 
Expert tips
Before smoking, sprinkle the wings with a coat of Humphrey's Jivin' Hive and let them sit for 5-15 minutes on the counter.  
Use a dash of smoked paprika instead of regular for an additional smokey flavor and pretty color. I add just a teeny bit right before I toss in the sauce.
The best way to get a crispy skin is to flash fry them in oil or place under the broiler for a couple minutes. Grilling on direct heat after smoking also helps.
Warm up your sauce before coating the wings.  This will prevent your meat from getting cold.
Set the sauce:  once sauced: put them back in the smoker or grill to "set the sauce" This should only take about 10-15 minutes.  
Use your instant read probe thermometer if you are not able to maintain the constant 225-325 degrees temperature in your smoker. Make sure meat is 165F degrees! (I prefer a finish temp of 180-185°F)
Ingredients
2.5# of chicken wings

Smoked Paprika
Instructions
Cover chicken wings in Humphrey's

Jivin' Hive

rub and let sit for 10 minutes.

Meanwhile preheat your smoker to 225°F for low and slow or 325°F for hot and fast. Place wings on the smoker rack leavings some space between them. Load smoker with Cherry Wood and smoke checking them after about an hour.

Wings should be done in 2 hours but check with your thermometer to make sure the temperature inside the thickest part of the meat is at 165-180 degrees.
Pour Spicy Sauce in a Pan and warm it up in the smoker or grill.
Sprinkle the finished wings with a pinch of SMOKED paprika then toss in warmed SPICY SAUCE.